Live Music Event Planning and Entertainment Victoria BC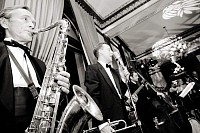 Event Music Planning in Victoria BC
If you are planning an event and need help with organizing the entertainment, look no further. Our artists are true professionals who can help you realize your vision and we are there to help you get all the little details done when booking a live performer or setting up a live music show.

We provide you with a consultant to discuss your needs and vision for your event.  Then we give you sample contract for the entertainment and set-up of your choice, you proofread the contract to make sure all the details are exactly like you want them, before you pay any money.   When you are settled on a contract and details you agree with, we secure the entertainer for your event with a small deposit.

The remaining balance is due on the day of the performance, and we make sure that you receive top quality entertainment, on time, on budget, with no suprises.
Wedding Music Planning in Victoria BC
Weddings: We have staffed every major venue in Victoria BC and know the layout of the rooms, the acoustic properties of the rooms and the kind of group that would make a great fit for the room and event style you have in your vision.  Our Artist roster has the perfect match of musicians for your event. 
Corporate Event Entertainment Victoria BC
Corporate Events: If you are looking for entertainment for a corporate event or are an event planner look no further, Victoria Live Music Agency is the perfect entertainment choice.

Planning a corporate function requires quick communication, shared vision and technical expertise. We understand this, and after the event want you and your guests to be talking about how well things went, how great the food was and how everyone loved the music. This is where we come in.
Our total entertainment package, is more than providing a live band for your guests to enjoy.  Our team can assist in getting your corporate message across to your clients in a unique way.  We can help your message make a big impact by telling your story and grabbing the attention of your audience.
We also provide stage lighting and our own sound system. We can provide music for when the band is not playing and providing a night of entertainment you will not forget, we are true music professionals attentive to every detail.
We have experience in all local venues, and are flexible in size to meet your budget.
We offer music for cocktail receptions, trade shows, conferences, parties, award banquets and more.
Why stress about how your entertainment is going to be received by your clients, with www.victorialivemusic.com you get classics from all eras, and there is something for everyone to enjoy.
Not sure of what music your clients will enjoy ? see our different Artist Roster pages to see the different configurations of professional musicians we work with to meet your needs.
Want to make sure your clients will still be able to talk over  background music ?  Contact us about our different size Band Packages.
Have a small budget ?  Contact us about our different size Band Packages to see the different configurations of musicians to meet your budget needs.
We can provide everything you require, just give us a call or send us an email to get the process started.  We are your Victoria BC corporate entertainment provider of choice.